Call to Artists - Boca Raton, FL

Join us for Second Annual - Ferrari's and Florals on April 17, 2023 at ONE 11 Event Venue in East Boca Raton, FL
April 17, 2023 Six O'Clock until 10 pm
Location: ONE 11 Event Venue - Boca Raton, FL 33432
A non-juried Luxury Networking and Charity Function
Expected Turnout: 100 - 200 Affluent Guests
Ferraris and Florals is and upscale experiential networking function which enables artists to network with chamber members, local notables and celebrities and the media. The dress code is: "BE YOU" yet perhaps the more Floral and Ferrari YOU! Arrive in a Ferrari if you wish! Dress like Thomas Magnum (Tom Selleck) in Magnum PI if you wish! The most important part is that you enjoy yourself while meeting and mingling with quality potential clients over cocktails, caviar and art...
How to Attend Ferraris and Florals as an Artist:
1. Select a package which fits your needs and budget
2. Make payment online via the payment button
3. Email us your details and some photos of your art to: PleaseAdvertise@gmail.com or fill out the online feeback form. You can also text the organizer Jay at 561-376-0033. Jay is a night owl so if texting during the day give him a few hours to respond.
4. Show up an hour early at the venue on the day of the event in order to stake out the best spot for displaying your art. There will be no actual booths or vendor tables so artists will be limited to 3 or 4 pieces of art either on the outdoor covered patio, the indoor VIP area or the indoor main floor area. There are some tables available for use yet not full exhibitor booths. Please bring your own table clothes and battery powered LED lighting if needed. Electric plug-in outlets are very limited at this venue.
Artists Packages Available:
A.) $1000 - includes: space for double the artwork at event (6-10 pieces) a one year membership in Luxury Chamber. A full page ad for six months in any or all 7 Luxury Chamber Media Group Magazines. Microphone introduction at the event. Event photos of artists and his art in all participating magazines and media. Artists photo and bio posted in 50 luxury social media groups and or pages.
B.) $500 - includes: space for 3 or 4 pieces of art. a one year membership in Luxury Chamber. A full page ad in the magazine of your choice. Guaranteed microphone intro at the event. Guaranteed celebrity photo opps at the event. If YOU are the celebrity we will publish photos with folks drooling over your art!
C.) $200 - includes: space for 3 or 4 pieces of art. An exhibitor listing with a hotlink on the event webpage. Photos possibly published in the media post event based on popularity of your art work.
D.) FREE - free to donate a piece of art to be raffled or auctioned off at the event with 100% of proceeds donated to the Turkish Earthquake Fund. Art must be placed on the booth of the Turkish Chamber of Commerce at the event. Potential for microphone introduction does exist assuming the art is popular enough.
*Package D exhibitors must still purchase a general event ticket at luxurychamber.com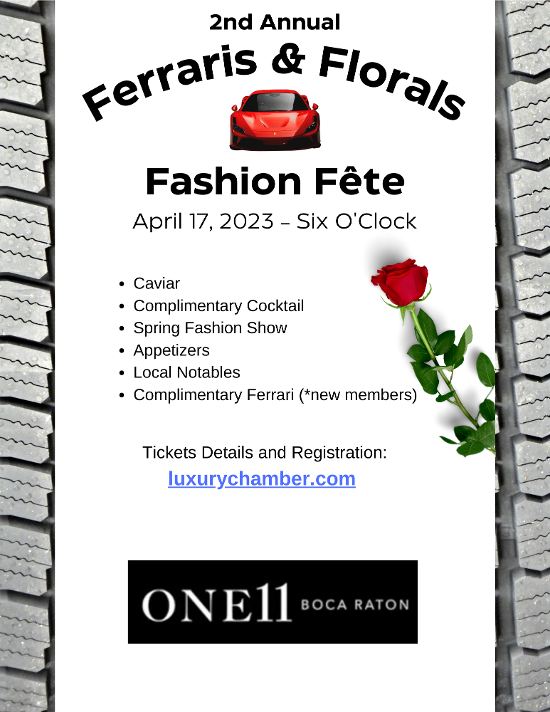 Miami and Los Angeles Team up to become ONE in the Art World!!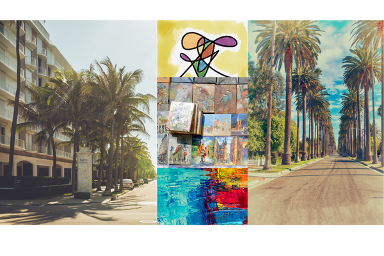 The LA Art Show and Art Palm Beach will become intertwined this February, a move which marks the start of an exciting new venture for the two fairs. Kassandra Voyagis, director of the LA Art Show, is spearheading this union in order to create "a dynamic, state-of-the-art bicoastal enterprise." The unification promises to be innovative and tantalizing for art fans on both coasts. Not only is the LA Art show the largest and longest running art fair on the West Coast, but the Florida based Art Palm Beach is also known as one of its oldest contemporary art events.
The merging of these two events in Contemporary art promises something special for their many followers. It's an event not to be missed!
SOUTH FLORIDA

magazine | The Monthly Luxury Lifestyle Publication of

OUR

Region
A Luxury Chamber Media Group Publication
Ⓒ 2016 to Present
Members of Art Collector's Club of Florida:
Marcela Fernanda Jan Bush Alberto Regueira Betsy Benefield Elisa Pelaez-Lora James Plant Ilaria Cunningham Iain Barnes Nico J. Acosta Janette Zeisig Shantell Pugh Juan Carlos Valdez Cynthia H Lopez · Tristina Dietz-Elmes Abby Behr Frankie Midnightt Prince-miami Live · Bianca Russell Ana Sophia Davila Bavuso Chuck Hicks Talya Danielle Karla Calassa Monique Graciotti Lucien Benisti Michelle Starr Metlika Giselle Reyes Jimenez Patricia DeMars Shelly Murray Carmen Rubio-Prado Anthony Lomascolo Jay Flores Coco Alarcon Acosta · JR Ramirez Sherry W. Schneider Debbi Burke Rod Selva Tiffany Diaz Don West Ulla Hansson Sergio Flores Helene Filipecka Adam Brand · Kerrie Sheinker Kelleen Clare Rafael Montilla · Coffee Fair Sonia Neira Matthews Laura Day-Rebollo Blima Efraim Blackest Sunshine Marcia Vincia Lynch Kevin McNamara Mackenzie Stewart Lori Pratico Mia Bella Cordova Miguel A. Hine Kristin Margaret Lily Lappost A Marchet Eaddy Constance Moreau Nancy Richmond Pat Bas Art Maria Sullivan Marcos Kwasniewski Greg Allore Susana Behar Alyse Siegel Chin Sarah Zemach Wilson Araujo Alejandro Alex R Cuadra Caitlin Maxcy Xochilt Michelle Bermúdez Burns Rosie Rodriguez Katy Hirschfeld Leinoff Michele Bazin Stephanie Zehno Ramon Altamirano Ranky Pro Liliana Botero Holam Alvarez Antonetti Debbie Fuf Michael Anthony Ferrer John P. Dunnigan Eddie L Wright Rao Bravo Emitt More Kenneth Metzker Mark Farrington Zonia Goicochea Eve GV NuNo Art Nerie Annette Pagan Stephanie Ponce Jason Gobel Ana Ruiz Alba Rubio Izquierdo LA Caryl Ginsburg Fantel Beth McKenna Sheherazade Thenard Yimy Chirinos Gaia KH Barbara Eisner Cooper Carlos Marrero Vinny Diaz Alexandra Ruizdelavin Majica Napoli Cary Tullos Clifford Gebara Mercedes Jahn Marie Cuellar Susan Maas Jorge Zamanillo Fatima Canovas Mariata Diaz Paco Paz Durán William Riera Patricia Perry Ursalina Aguilar Vickie Vaccaro-Gilbert Chris Cruz Heather Rae Carolina Rearte Maya Terushkova Terry Arroyo Mulrooney Serena Hawtin Scott Mayaudon Mike Anestor Andrew Sloan Wendy DeLucca Lydia De La Cerda Karina Luna Wanda Marti Ylisa Gabay Young Sand RA Mary Joseph Rukiye Barak Didi Marchi Sindy Finstad Cheryl Brown Darius Daughtry Mikhaile Solomon Marcos Kappaun Ergun Özek Cathleen Dean Tremayne Smith Zyan Jarrett II Ed Burnette Carol-Anne McFarlane Charlotte Hafen Poorboy Krill Edy Auguste Auguste · Jose Jacho Chitra Ramanathan Michele Derrow-Lerner Roly Daniel Raye Brewster Benedicte Blanc-fontenille Sheri Poole Eva Puppala Christovedo Art Jean-Michael Vissepo Ocasio Gregory R. Kirk Ann Jackson-Stewart Diana Elena Carioca Claudio Claudio Catherine Belmonte Samuel Stock Deborah Miller Wilpon Patricia Basiliades Marc Davis Melissa Beauchamp Marcella Sanchez Erin Parish Melina Almodovar · Carmen Baker Chardan Dobermans Emonde M Prosper Yetunde Shorters Sherry Liu James Rodney Frank Peninkart Papandrea Leah Natochy Madison Bloch · Stef Vidal Wintrich Aaron Debbie Kamberi Isaac Dipascal Rosaria Vigorito · Melissa Hunter Davis · a year ago Neil Golin Tim McClellan Dave McMahan Gavin Beckford Susan Small Jane Strisik Busker Gehan Castellanos Maria Hampton Joe Locke DrSheryl Ferguson Elizabeth Wentworth Lam Pimentel · Laura Marie Peterson Pablo Hernandez Barbara Cheives Celia Reigle Kristin Ludlow Magdalena A. Ortiz Elizabeth Velez Arguelles Rayner Gabriel Rochi Llaneza · Michele Hundt Justin O'Donnell Sue Kaminski Ann Friedlander Sheryl Antoinette Michelle Stolzenburg Angie Sowers Photos Rafael Muci Raphael Soussan GirlsClub FortLauderdale Jackson Shuri · Sharbel Sarduy Julian Pardo Jo Lamar Travis Acker Angie Lagou Jackie Colome Michael Gellatly Edie Bryan Alexia Van Buren Ralph Ventura Jurate Luckaite Denise Vale Bertha Morales Christopher Rodriguez Barake Mariela Rossel Pritikin Wendy Carey · Paul Sclafani Kumbuka Ronald Jessica Schnur Paola García David Gary Lloyd Sara Leace Krin Harold Smith Junior Dugue Marcos Conde · Sasn Dmt Vitia Pasion Amore Cora Anne Williams Randy Burman Tanya Bravo Jorge Chade Michael Brant Perna Deming King Harriman Victor Minca · Alex Alvarez Jessica Whatamessica Deborah London Todd Cass Barbara Friedman Greenspan Ephraim E Murillo Jr Laëtitia Lamalle-Donaghy Kimmie Kat Lara Cugno Joshua Tiktin Tesoro Carolina Manny Lorenzo Chris Costa Sharlene K Humm Arona Mikaere Winiriki Lee Idstein Aloni Lee Greenstein Alicia Saxe Sabina Shuminov Paddi Bernadette Nancy Anzalone Nigel Burgundy Nick Neddo Jacqueline Eden Prince Aderele Mamushka Salazar Michael Foster Hector Garcia Manny Cuevas Peter Fasi Nzingah Oniwosan Fine Art Cards Steve Sarsfield Michael White Emunah Susson Juan S. Hernandez Ellie Bejar-Benz Laura Sapir Pascal Lecocq · Dalia Pundak Norsham Garcia Patricia Bethuel Violet Gonzalez Mehmet Yorulmaz Jul Siro Santiago E. Perez Marne Adler Ileana Collazo · Pete Koza Heather Storm Paul Leary Sylvie Muriel Fournier-Popov Eileen Devline-Ward Susan Connors · Carlos Cesar Alves Melissa Aldana Stefanie Renee Lori Geiger Ken Hendel Këifus Edwin Mathews Christina Robinson Lujan Candria Patrizia Gastaldo · Moxie Nox Rita Stankus Bernice Granick Ulises Marie-Pierre Boutin Dianna Poole Silvagni Michael Marko Evelyn Ballin Robin Cheren Siff Jack Cooke Jim Carpenter James Stephenson Ken Harrison Janice Hamilton Carol A Loomis Jane du Brin Tim Ravenna Zach Ozunal Niki Lopez Nilda Comas Nereida Mesa Miller Eleanor Runge Marissa Kelley Joel Barden JoAnn Nava Jean Marie Yasmin Ishmael Nolan Haan Gabby Bendel Ronnie Greenspan · Sylvain Denis Dana Donaty Dorie Cox Martha Castillo Corey Taub Tom Latrielle Jose M Arango Ivry Russillo Hernán Grajales Cifuentes Francisco Sheuat Renee Falsetto Jodie Fraser Gerard Delaney · Anthony Djuren Niko Yulis Claudia Polzer Gordon Scott Venters Caroline Krieger Comings Jenny Lowhar DrMichael Matone Baglino Aleka Nakis Olimpia Zuccarelli Arghavan Behrouz Katia Danilova Tata Fernandez Ashley Marks MarciiannaLuv Martians Pedro Mayorga Phoenix SpiritDiva · Guillermo Mazzotti Andy C. Trejo Carey McKearnan Donna Haynes Nora Meyer Debra Cortese Anastasia Sultzer November Ken Melissa Kady Sara L Comettant David Alfonsetti Annie Y. Saldaña Leonel Fernandez Quenia Quenia Maria Patino Izetta Schepers Seth Sklarey Dianett Doyle Heike Dempster Sheri A Friedman Patricia Boyd-Roldan Zuleika Von Rogue Christopher Hawke Meltem Morren Richard LeAndre Barnett Freddy Jentzsch Sr Chanel Prada Anne Dupéré Unavailable Learn more · Regina Garrido Karen Deilke Al Fink Michael Harpool Jim Cook Adrienne Rose Joe Aronstein Kosh LilYana LoVela Jairo Alfonso Rosas Miranda Michael D. Colanero Jim Hammond Tom Rossetti Carolina Mendez Jeffrey Dimitriotous Carlos Barcia Tad Sharpe Coele W. Gaia Calvin Kingston Elcira Chomat Morales Roberto Galvez Robert Galvez Yvonne Mccormack-Lyons David Santana Brooke Trace Litana Om · Charles Wilson Melissa Capo Zuseth Amador Bobby W. Tinoco Marco Fernandez Eliane Harvey Marcs Art Jacob Goldman Aiyesha Ghani Rolando Chang Barrero · Nash Carey Nilda Galeria DArte Raul Guerrero Ma Ha Kevin Sharpley Theresa Payne Clara Almeida-Serrano