SOUTH FLORIDA | Business & Financial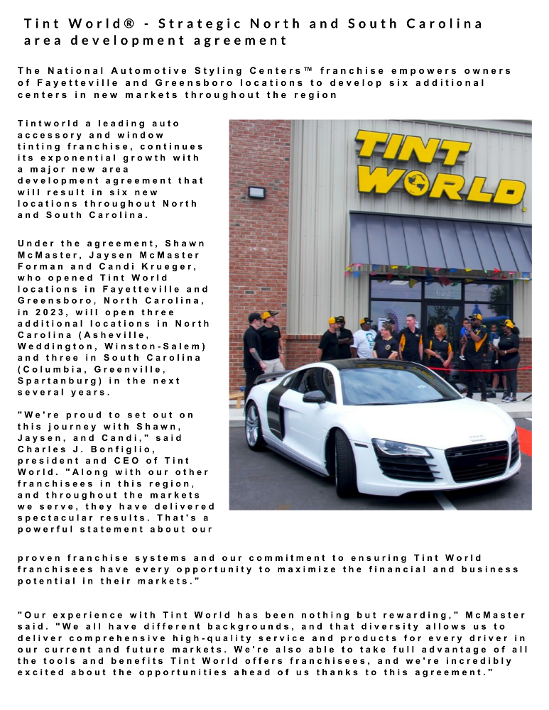 The National Automotive Styling Centers™ franchise empowers owners of Fayetteville and Greensboro locations to develop six additional centers in new markets throughout the region!
Tintworld a leading auto accessory and window tinting franchise, continues its exponential growth with a major new area development agreement that will result in six new locations throughout North and South Carolina.
Under the agreement, Shawn McMaster, Jaysen McMaster Forman and Candi Krueger, who opened Tint World locations in Fayetteville and Greensboro, North Carolina, in 2023, will open three additional locations in North Carolina (Asheville, Weddington, Winston-Salem) and three in South Carolina (Columbia, Greenville, Spartanburg) in the next several years. "We're proud to set out on this journey with Shawn, Jaysen, and Candi," said Charles J. Bonfiglio, president and CEO of Tint World. "Along with our other franchisees in this region, and throughout the markets we serve, they have delivered spectacular results. That's a powerful statement about our proven franchise systems and our commitment to ensuring Tint World franchisees have every opportunity to maximize the financial and business potential in their markets." "Our experience with Tint World has been nothing but rewarding," McMaster said. "We all have different backgrounds, and that diversity allows us to deliver comprehensive high-quality service and products for every driver in our current and future markets. We're also able to take full advantage of all the tools and benefits Tint World offers franchisees, and we're incredibly excited about the opportunities ahead of us thanks to this agreement."
Lina, Leader in Medical Coworking, Expands to Aventura, South Florida
Lina held a ribbon-cutting ceremony at the site on
September 8, 2022
, which was attended by its Chief Executive Officer, Vicrum Puri; several county commissioners; and Aventura Mayor
Enid Weisman
.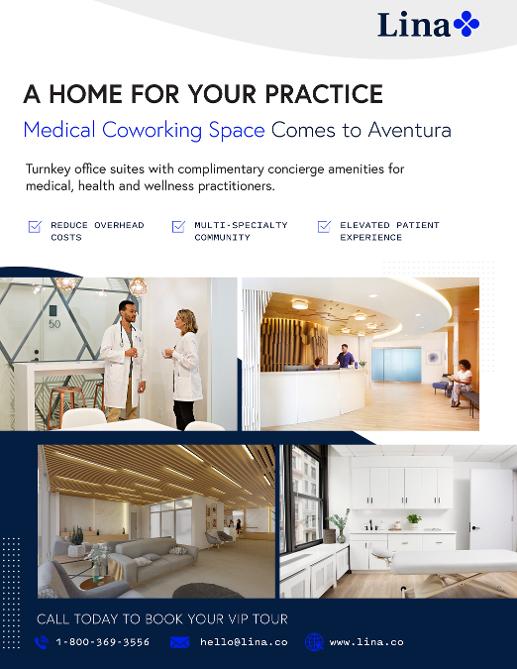 Lina was founded by a husband/wife team Vicrum Puri and Rachel Puri to help alleviate the many burdens of private practice physicians and reverse their decline, which has dropped to an unprecedented less than 50% in the U.S. By offsetting increasingly steep costs — including labor, staffing, operating, and real estate — and providing turnkey suites, a supportive community, and flexible membership options, Lina has championed physicians to flourish and retain their autonomy.
"Everything from our state-of-the-art equipment to our elevated environment to our administrative services enables the well-being of our physicians as much as their patients," said Vicrum. "Our cost-effective alternatives combined with member access to invaluable networking and resources has allowed practitioners to launch, sustain, and grow their practices."
Lina's two current flagship medical co-working spaces are based in New York City: one near the iconic Flatiron Building and the other just steps from Grand Central Terminal.
Lina Aventura is located in the same building as the Serena Hotel and in the heart of the Medical District, further cementing its status as a thriving innovator in this unique industry sector.ffi visit lina.co
SOUTH FLORIDA
magazine | The Monthly Luxury Lifestyle Magazine Covering All Five Counties in Geographical South Florida
Luxury Chamber Media Group © 2017 - 2023 All Rights Reserved soflmag.com