SOUTH FLORIDA | Business & Financial
PORT 32 Marinas Acquires Lighthouse Point Marina
Prominent purchase represents PORT 32's renewed focus on acquisitive growth along both the US Atlantic Coast and Gulf of Mexico PORT 32 Marinas, LLC (PORT 32) today acquired one of South Florida's most admired waterfront properties, Lighthouse Point Marina. Located at 2831 Marina Circle, Lighthouse Point, FL, the marina is one of the area's most coveted destinations in the heart of the "Yachting Capital of the World." It is situated on the Intracoastal Waterway, just minutes from the Hillsboro Inlet.
PORT 32 is a leading owner, operator, developer, and acquirer of a growing collection of irreplaceable marina assets in nine premier markets across both coasts of Florida. The purchase of Lighthouse Point represents the first marina acquisition by the new PORT 32 leadership team, which joined the company in late 2022. With the addition of Lighthouse Point, PORT 32 seeks to grow its family of marinas within Florida and to expand strategically into new markets along the Atlantic Coast and Gulf of Mexico. "Lighthouse Point Marina is a special lifestyle property in an extraordinary location, tucked just inside the clear Atlantic waters of the Hillsboro Inlet. Here at PORT 32, we love cruising with friends and family, saltwater fishing, and ice-cold drinks on the waterfront, which makes Lighthouse Point a perfect fit for our growing portfolio of premier coastal marinas," said Austin Schell, CEO of PORT 32 Marinas. "After almost 60 years of unbroken family ownership, we are thrilled the Spiekers chose PORT 32 Marinas to carry on their legacy as the first non-family owner of Lighthouse Point. To all our Lighthouse Point Marina members and the surrounding community, we look forward to introducing you to our leadership team and hope to meet you on the docks, at the Nauti Dawg restaurant, or on the saltwater sometime soon."
CBRE's Julie Fisher Berry and Sheila Roux represented the seller, Lighthouse Point Marina Inc., in the transaction. Led by Julie Fisher Berry, CBRE's Marina and Shipyards brokerage team in South Florida has transacted over $1.5 billion in marina and shipyard sales. Featuring 102 wet slips that can accommodate 25- to 80-foot vessels, the 4,410 total linear footage marina had been family owned and operated for over 50 years and had never been offered for acquisition previously. Located less than ½ nautical mile from the Hillsboro Inlet, Lighthouse Point Marina provides immediate access to the ocean, a significant feature for sportfishing enthusiasts. Amenities, such as the fuel dock, the live bait station, the popular Nauti Dawg restaurant, the ship store, and other features make this one of the most desirable marinas for boaters. "Lighthouse Point Marina is one of the most coveted marinas in South Florida due to its location near the Hillsboro Inlet and the surrounding area of Lighthouse Point. The owners have built a loyal customer base by providing great service, operating an excellent restaurant, and keeping the marina in impeccable condition," said Julie Fisher Berry, a senior vice president with CBRE in Fort Lauderdale. "CBRE is honored to have represented the owners and identified the buyer of this high-profile marina property. After a strategic offering process, PORT 32 Marinas emerged as the perfect buyer. CEO Austin Schell and his team have engaged with the owners and staff for a smooth transition that will continue the successful legacy that the Spieker family built." "Lighthouse Point Marina has been owned and operated by one family, the Spieker family, for over half a century. As second-generation owner-operators, it was important for us to find a buyer that will respect what we have created and retain our staff and family culture with the intention of maintaining and even improving the site with time. We believe we have found that buyer with PORT 32 Marinas. On behalf of owners, Debbie Edwards, Christian Spieker and myself, we feel the Lighthouse Point Marina and Nauti Dawg Marina Café are being left in good hands, and we look forward to watching both entities blossom under the new leadership of PORT 32 Marinas," said Maureen Canada, former president of Lighthouse Point Marina.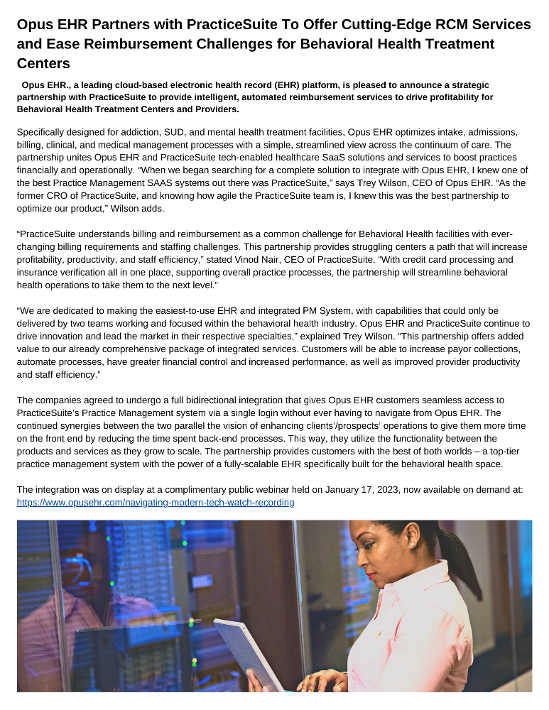 Opus EHR Partners with PracticeSuite To Offer Cutting-Edge RCM Services and Ease Reimbursement Challenges for Behavioral Health Treatment Centers
Opus EHR., a leading cloud-based electronic health record (EHR) platform, is pleased to announce a strategic partnership with PracticeSuite to provide intelligent, automated reimbursement services to drive profitability for Behavioral Health Treatment Centers and Providers.
Specifically designed for addiction, SUD, and mental health treatment facilities, Opus EHR optimizes intake, admissions, billing, clinical, and medical management processes with a simple, streamlined view across the continuum of care. The partnership unites Opus EHR and PracticeSuite tech-enabled healthcare SaaS solutions and services to boost practices financially and operationally. "When we began searching for a complete solution to integrate with Opus EHR, I knew one of the best Practice Management SAAS systems out there was PracticeSuite," says Trey Wilson, CEO of Opus EHR. "As the former CRO of PracticeSuite, and knowing how agile the PracticeSuite team is, I knew this was the best partnership to optimize our product," Wilson adds.
"PracticeSuite understands billing and reimbursement as a common challenge for Behavioral Health facilities with ever-changing billing requirements and staffing challenges. This partnership provides struggling centers a path that will increase profitability, productivity, and staff efficiency," stated Vinod Nair, CEO of PracticeSuite. "With credit card processing and insurance verification all in one place, supporting overall practice processes, the partnership will streamline behavioral health operations to take them to the next level."
"We are dedicated to making the easiest-to-use EHR and integrated PM System, with capabilities that could only be delivered by two teams working and focused within the behavioral health industry. Opus EHR and PracticeSuite continue to drive innovation and lead the market in their respective specialties," explained Trey Wilson. "This partnership offers added value to our already comprehensive package of integrated services. Customers will be able to increase payor collections, automate processes, have greater financial control and increased performance, as well as improved provider productivity and staff efficiency."
The companies agreed to undergo a full bidirectional integration that gives Opus EHR customers seamless access to PracticeSuite's Practice Management system via a single login without ever having to navigate from Opus EHR. The continued synergies between the two parallel the vision of enhancing clients'/prospects' operations to give them more time on the front end by reducing the time spent back-end processes. This way, they utilize the functionality between the products and services as they grow to scale. The partnership provides customers with the best of both worlds – a top-tier practice management system with the power of a fully-scalable EHR specifically built for the behavioral health space.
The integration was on display at a complimentary public webinar held on January 17, 2023, now available on demand at:
https://www.opusehr.com/navigating-modern-tech-watch-recording
Lina, Leader in Medical Coworking, Expands to Aventura, South Florida
Lina held a ribbon-cutting ceremony at the site on
September 8, 2022
, which was attended by its Chief Executive Officer, Vicrum Puri; several county commissioners; and Aventura Mayor
Enid Weisman
.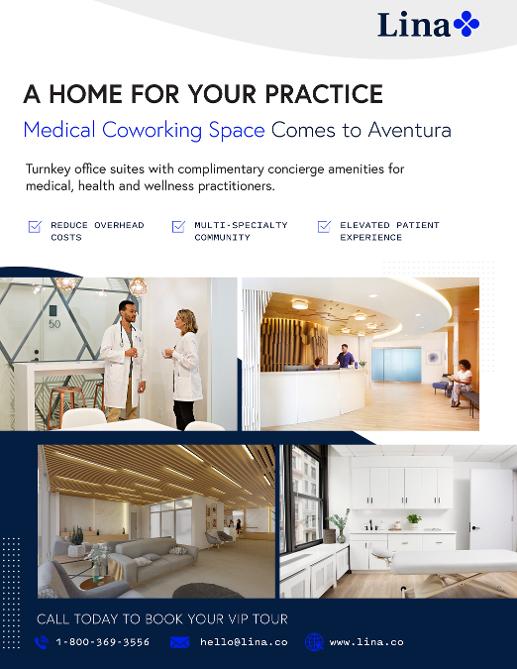 Lina was founded by a husband/wife team Vicrum Puri and Rachel Puri to help alleviate the many burdens of private practice physicians and reverse their decline, which has dropped to an unprecedented less than 50% in the U.S. By offsetting increasingly steep costs — including labor, staffing, operating, and real estate — and providing turnkey suites, a supportive community, and flexible membership options, Lina has championed physicians to flourish and retain their autonomy.
"Everything from our state-of-the-art equipment to our elevated environment to our administrative services enables the well-being of our physicians as much as their patients," said Vicrum. "Our cost-effective alternatives combined with member access to invaluable networking and resources has allowed practitioners to launch, sustain, and grow their practices."
Lina's two current flagship medical co-working spaces are based in New York City: one near the iconic Flatiron Building and the other just steps from Grand Central Terminal.
Lina Aventura is located in the same building as the Serena Hotel and in the heart of the Medical District, further cementing its status as a thriving innovator in this unique industry sector.ffi visit lina.co
SOUTH FLORIDA

magazine | The Monthly Luxury Lifestyle Publication of

OUR

Region
A Luxury Chamber Media Group Publication
Ⓒ 2016 to Present