Audi of America is the official automotive partner of nature-inspired luxury lifestyle brand, 1 Hotels
From 2021 through 2023, the Audi e-tron will serve as the Official Electric Vehicle of 1 Hotels properties in New York, Los Angeles and Miami. Hotel guests will be able to experience the Audi e-tron by taking advantage of the hotel's house cars through the guest shuttles and chauffeured drives. 1 Hotels has curated local excursions for guests to enjoy Audi e-tron test drive experiences at each of the hotels.
Collaborating with 1 Hotels strengthens Audi's mission to support partnerships with like-minded organizations that stand for living progress and creating a more electrified and sustainable future. Both brands share a commitment to electrification and more sustainable mobility, investing in community projects, giving back to society and the environment, and the responsible use of resources as part of a larger effort to becoming net-carbon neutral.
As part of the partnership through the Audi Preferred Benefits program, Audi owners will be able to enjoy 15 percent off the best flexible rate when they book a stay at any of the following 1 Hotels at Central Park, Brooklyn Bridge, South Beach and West Hollywood.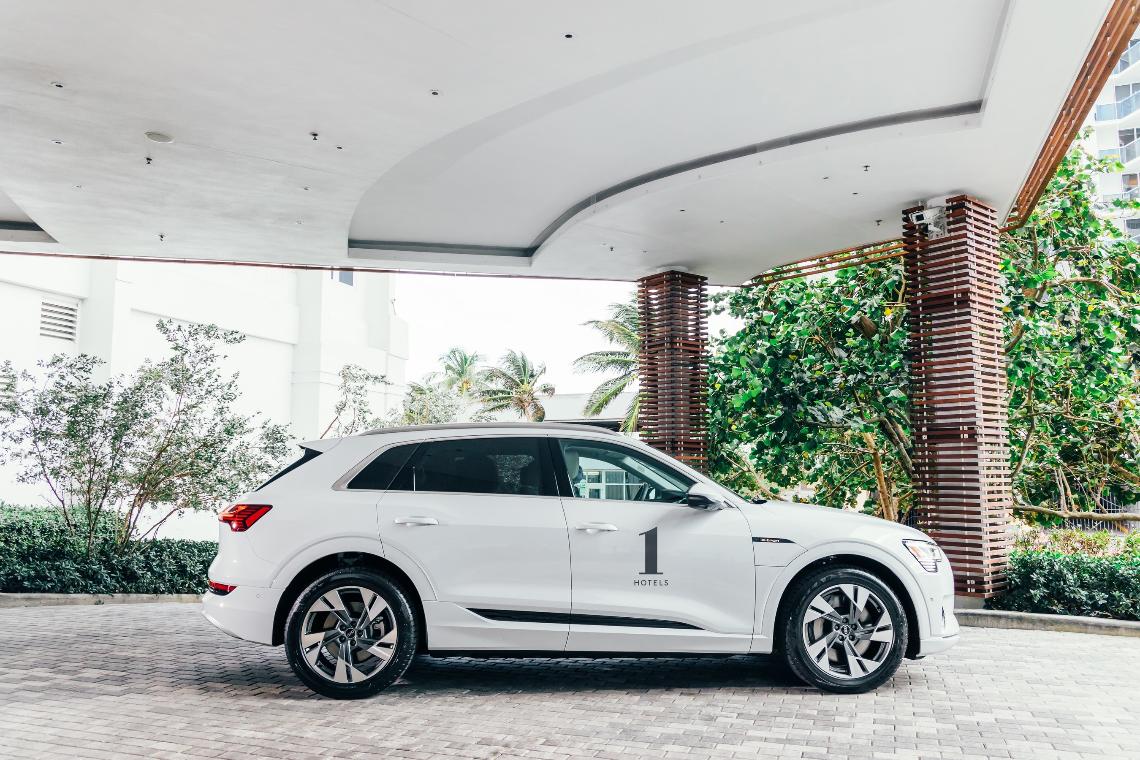 Audi was also among the first automotive manufacturers to publicly support and align its actions with the goals of the Paris Climate Agreement and has set the ambitious goal of reducing vehicle-specific CO2 emissions by 30 percent by 2025 and aims to be net CO2-neutral throughout the company by 2050.As the first mission-driven hospitality brand, 1 Hotels commitment to safeguarding the planet informs every aspect of the brand from design, food and beverage, programming and activations.
H&M And Giuliva Heritage Collaborate On A Collection Of Timeless Pieces With Sustainability As A Focus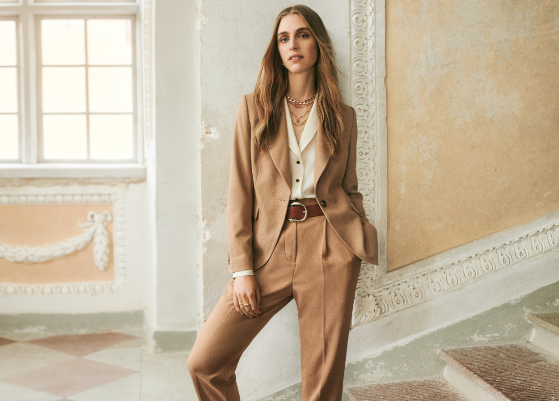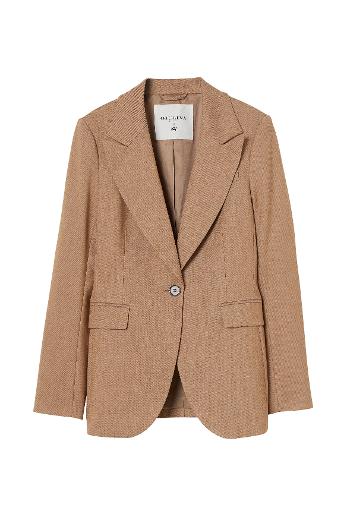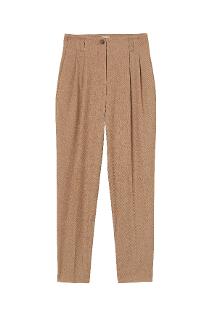 H&M is proud to announce a collaboration with the luxury Italian brand, Giuliva Heritage. Family-owned and known for their flawless tailoring, Giuliva Heritage takes classic menswear silhouettes into the world of womenswear. The Giuliva Heritage founders, Margherita Cardelli and husband Gerardo Cavaliere, are passionate about long lasting fashion in great fabrics. Together with H&M, the couple created a modern take on Italian heritage with a collection made from materials from more sustainable sources. In line with both brands' journey to circularity, the collection is made from recycled fabrics. The collection will be available in select stores and HM.com beginning on September 3rd.
In the beginnings of Giuliva Heritage, Margherita often used to borrow from Gerardo's wardrobe, regularly dressing in his clothes. In keeping with this ethos, Giuliva Heritage x H&M features traditional shirting, strong tailored blazers and contemporary trench coats in recycled wools, recycled polyester and organic cottons. Accompanied by flowing blouses, dresses and wearable coordinating separates, these looks offer a concise, classic wardrobe. Timeless tones of beige, navy, dusky blue and burgundy are featured alongside pinstripe and plaid with details such as cowl-necklines, bishop sleeves and high waists.
"It was wonderful to work with H&M on this collection. Together, we created easy transitional pieces with designs that stand the test of time. We were especially delighted to use recycled materials with every look. We have always been passionate about authentic, meaningful fashion that lasts, and this collection undoubtedly captures that," says Gerardo Cavaliere and Margherita Cardelli Cavaliere.
"We are thrilled to collaborate with fine tailoring experts Giuliva Heritage. Inspired by classic menswear designs, both our teams were excited to create accessible and timeless pieces for the modern woman. With H&M's conscious fabrications and Giuliva Heritage's enduring designs, we've created long lasting pieces that we hope our customers will pass down from generation to generation," says Maria Östblom, Head of Design Womenswear at H&M.
Spring 2020 - Donna Karan's Urban Zen Names Helen Aboah As Chief Executive Officer
Urban Zen today announced the appointment of Helen Aboah as Chief Executive Officer effective immediately. A seasoned executive within the fashion industry, Aboah previously held the role of Executive Vice President at Alexander Wang and executive at LVMH/Donna Karen Intl.
Helen brings decades of experience to the organization with a proven track record of outstanding growth at multi-faceted luxury brands by balancing strategic and operational excellence. Her vast industry knowledge, focus on brand positioning, merchandising and product driven strategies combined with Karan's creative vision for the future of Urban Zen, create a unique platform that will not only dress women, but address them.
Aboah will also oversee the groundbreaking Urban Zen Integrative Therapy (UZIT) program that integrates Eastern healing modalities with Western science. Today, the UZIT network is made up of over 900 certified therapists of varying levels working across the country.
The shared mission of Karan and Aboah is to build and expand upon the founding three pillars of Urban Zen: preservation of culture (past), healthcare (present) and education (future). Aboah's appointment is a clear reflection of the global growth plans for Urban Zen; filling a role that has been vacant for 2 years.
"It's exciting to be joining forces with Donna Karan to lead Urban Zen through the next phase of growth. Donna is not only an icon but a visionary that has always been ahead of her time with concepts that have changed the way consumers dress, shop, and live: from her original seven easy pieces, buy-now-wear-now, wellness and yoga and now conscious consumerism. Through Urban Zen we have the opportunity to connect the dots between Donna's timeless aesthetic, artisan craftsmanship, and philanthropic efforts."
Delray Beach - Big Apple Mini Mall to Host "Go Pink" Fashion Show - October 19th, 2019
Go Pink! Fashion Show at The Big Apple Shopping Bazaar, Raising Breast Cancer Awareness.
With a Disney-esque interior design, rebranded as The Big Apple "Mini Mall" shoppers are transported to New York City with streetlights, iconic building facades, brick walkways and a growing list of vendors offering the best in jewelry, clothes, eyewear, salon & spa services, food and much more!
Delray Beach, FL – October is a Pink month, why not make it more interesting than usual? The Big Apple Mini Mall, Shopping Bazaar, Jewelry Exchange and Salon & Spa, located at 5283 West Atlantic Ave, Delray Beach, will be hosting the "Go Pink! Fashion Show" in honor of Bread Cancer Awareness. The Big Apple Shopping Bazaar will provide this unique experience on October 19th, 2019 from 3pm – 5:30pm. Most importantly, there is NO tickets required, the show is FREE to public and will feature GO PINK by designer ACID NYC; models from Ms. International World and top of Billboard charts DJ Qil. Additionally, The Big Apple Shopping Bazaar merchants will offer various discounts in honor of Bread Cancer Awareness. "The Big Apple" will also be giving out gifts for guests who are attending the event.
The Big Apple Shopping Bazaar, Delray Beach's prominent family-owned business since 1971, remains committed to providing customers and visitors with the finest quality Shopping Boutiques, Jewelry Showrooms, and Salon & Spa Suites. According to Chad Ruggiere the newly-announced VP of Business Development & Marketing for "The Big Apple", Chad states, "We have transformed this popular shopping destination into Delray Beach's first mini mall. The building comprising of 35,000 square feet will now house a new Jewelry Exchange and Salon & Spa Suites along with the existing unique array of more than 50 one-of-kind specialty shoppes. Delray Beach's Mini Mall with over 300 onsite parking spaces for customers has a beautiful Disney-esque interior design reminiscent of the streets of New York City, with beautifications to the exterior of the property including signage, landscaping, and parking lot. I could not be more excited to be part of the team as well as the process in elevating the image of "The Big Apple".
The Historic Maxwell Room to Host Fall Fashion Fete 2019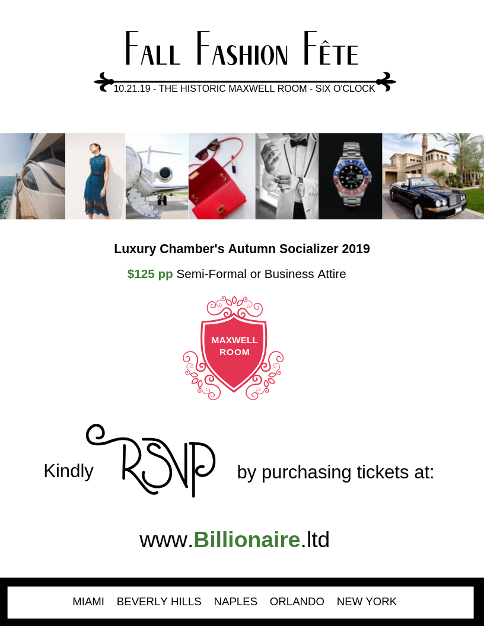 Get Ready to Sparkle! Oh-So Glam Holiday and New Year's Looks by VICI!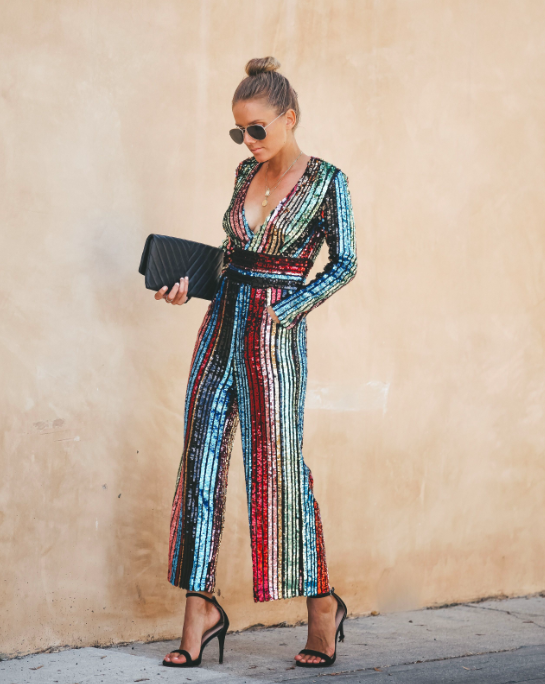 It's that time of year again ladies to get your glam on and look oh-so stunning at all those holiday parties. From your daytime office party, your BFF's Christmas party, your guy's office gala and of course New Year's Eve celebrations, there are lots of occasions to get your sparkle on!
VICI has everything all fashionistas need to shine from head to toe this holiday with its glam holiday dresses, jumpsuits, tops, sweaters, shoes, bags and more. While you'll look like a million bucks, everything in Vici's beloved collection is well-priced and made with quality fabrics. Ready to get your shopping on, girls?
Pop of Glam Faux Leather Contract Pleated Max Dress Teal
The perfect statement dress for this holiday season! This dress has a full body skirt that flows so gracefully and is absolutely stunning. The strapless split neckline is very flattering andrubber stopping on the inside of the bust keeps you supported all night long!
Breakaway Ombre Pocketed Shaggy Jacket
Just about as glamorous as it gets! The Breakaway Ombre Pocketed Shaggy Jacket is so chic with a retro rock star inspired vibe.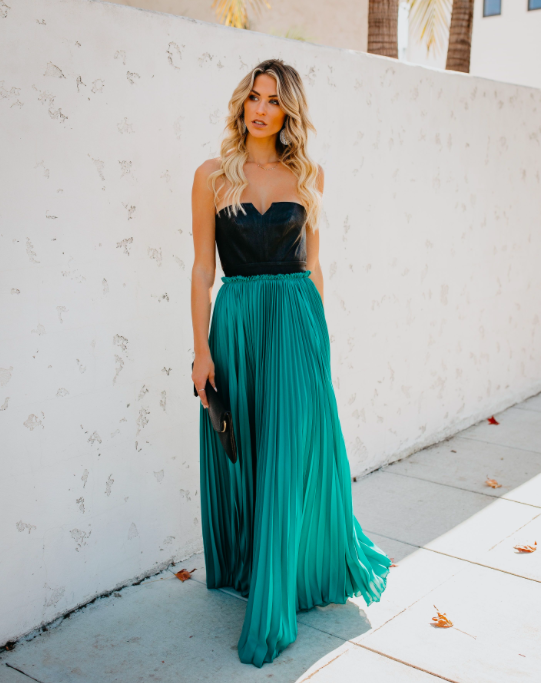 Gigi Hadid Visits UNICEF Programming in Bangladesh
August 27th - 2018 International supermodel and UNICEF Supporter Gigi Hadid traveled with UNICEF USA to Bangladesh last week, promoting the rights and well-being of every child. During her visit, Hadid saw first-hand the impact of UNICEF programming, including education, child-friendly spaces, health support and more. The trip fell on the eve of the one-year anniversary of the Rohingya refugee crisis, which began on August 25, 2017.
There are 1.3 million people in need of humanitarian assistance in the region since the mass influx of Rohingya refugees to Bangladesh from Myanmar last year, and more than half are children. On a visit to the Sabrang river border area, Hadid saw the route that so many children and families took in hopes of a safer life.
At a Learning Center in Shamlapur Camp, Hadid met students and joined in educational games and activities. At an Information Feedback Center, she met with inspirational young people, mothers and community mobilizers who are engaging their communities in response efforts.
At a Women-Friendly Space in Jamtoli Camp, Hadid met women who are leading their households with support from UNICEF and partners. In the Kutupalong camp, Hadid saw the lifesaving impact of Ready-to-Use Therapeutic Food Packets for malnourished children at an Outpatient Therapeutic Feeding Center and saw the power of play at a Child-Friendly Space, where kids receive support and recover from trauma.
"Visiting the Rohingya camps in Bangladesh with Gigi Hadid ahead of the one-year mark of the crisis was a hugely impactful experience. It gave me a renewed sense of purpose to make sure that these bright, dynamic children have everything they need to grow and thrive," said Caryl M. Stern President and CEO of UNICEF USA. "We are so thankful that Gigi gave her time, voice and platforms to this mission. She is a living example of what it means to put 'children first' and was a natural in the environment – warm and engaging with everyone she met. We are thrilled to have her as a UNICEF USA Supporter."
Upon her return, Hadid and UNICEF Ambassador Halima Aden started a CrowdRise page to support UNICEF's work to protect children on the move around the world and celebrate their September cover of CR Fashion Book. Both Hadid and Aden are represented by IMG Models, whose parent company Endeavor helped introduce them to UNICEF USA.
"We were so proud to connect Gigi with Endeavor's social impact partner, UNICEF, and watch her mobilize immediately through her first field visit to Bangladesh. Gigi was able to witness firsthand the incredible work UNICEF is doing with the Rohingya refugees in helping them not only survive, but thrive. The impassioned support from Gigi, Halima and their teams at IMG Models will continue to raise awareness for and have a direct impact on the communities UNICEF serves around the world," stated Tascha Rudder, Executive Director of the Endeavor Foundation.
Fort Myers Based Chico's Fashion Brands Joins Forces with Habitat for Humanity
March 16th 2018 - Chico's FAS, Inc. (NYSE: CHS) and its family of brands, Chico's, White House Black Market and Soma, announce a new national partnership with Habitat for Humanity International aimed at empowering women to build strength, stability and independence through housing.
"As a Company that serves women, Chico's FAS is deeply committed to their well-being, health and empowerment. A safe, affordable home creates transformational advancements for women, their families and communities," said Shelley Broader, President and CEO of Chico's FAS. "We recognize and value the immense contributions that women make every day. With over 65% female representation on our Executive Committee and 55% representation on our Board, our commitment to women's development is ongoing and indisputable. There is no greater force than women coming together to support each other."
The partnership kicks off on March 8th in support of International Women's Day, celebrating the social, economic, cultural and political achievements of women. This multifaceted partnership includes sponsorship of Habitat's 2018 Women Build program, which recruits, educates and inspires women to build and advocate for safe and affordable shelter in their communities. Chico's FAS' support will directly impact 77 communities across the United States, including the complete funding of two new homes and providing $1,000 grants to 75 Women Build projects.
To further the effort, each of Chico's FAS' brands will donate a portion of certain product sales, up to a combined maximum donation of $650,000, to benefit Habitat for Humanity. Additionally, Chico's FAS will collect register donations at its Chico's, White House Black Market and Soma boutiques, outlets and online.
"Chico's FAS is consistently recognized for their real and substantial commitment to women's equality. In the U.S. alone, affordable housing is unreachable for far too many women and their families, creating barriers to education, financial stability and health. We know that home is the key to a better future and together, with the help of partners like Chico's FAS, we can give a hand up to more women in need of a decent place to call home," said Colleen Finn Ridenhour, Senior Vice President of Development, Habitat for Humanity International.
Chico's FAS will also sponsor Habitat's upcoming Home is the Key campaign, which gathers sponsors, celebrities and community leaders for activities and build events across the country, drawing attention to the critical need for affordable housing.
___________________________________________________________________________________________
Helzberg Diamonds Launches Mad Mobile's Concierge Solution
Top Jewelry Retailer Empowers Retail Store Associates with Mobile

Jan 2018 - Mad Mobile, a recognized leader in Unified Commerce, announced today the successful rollout of its Concierge solution for Helzberg Diamonds. A Berkshire Hathaway company, Helzberg is now running the Concierge mobile application for store associates in all stores.

"After reviewing multiple technology solutions, we picked Mad Mobile because of their proven track record with large scale implementations as well as the results of their clients, such as Talbots, are seeing with Concierge," said Helzberg CIO Jeff Rohr.
With Concierge, Helzberg Diamonds store associates have instant mobile access to product and customer data that resides in their retail systems including inventory availability and tools to help them connect with customers to generate additional store traffic and sales.

"We are excited to partner with the Helzberg Diamonds team to transform to empower their store associates with these clienteling capabilities," said Mad Mobile CEO Bruce Bennett. "The Concierge solution has already made a positive impact on the shopping experience at Helzberg Diamonds."