EASY SPIRIT AND DENISE AUSTIN SERVE COMFORT WITH A NEW PICKLEBALL SNEAKER
Easy Spirit, the original women's comfort footwear brand, partners with fitness icon, Denise Austin, to launch its first ever pickleball shoe, designed specifically for women. Easy Spirit has been delivering on the promise of making customer's everyday a little lighter, softer, and they are now bringing that renowned made to move comfort to the court.
The Easy Spirit x Denise Austin Dilli court shoe features a shock absorbing cushioned footbed, reinforced stitched forefoot and a traction-dimpled outsole making the shoe comfortable, durable and supportive for stop-and-go movement. Additionally, the moisture wicking lining and a breathable soft leather upper make it the perfect shoe for women who love staying cool while comfortable on the court.
"We're thrilled to be launching this new product," said Marc Fisher, CEO of Marc Fisher Footwear. "We recognize that pickleball is a widely popular sport among women, and we wanted to create a shoe that brings our comfort to the court. We believe that the Dilli pickleball shoe will help women play their best game while staying comfortable and injury-free."
As an avid pickleball player, Denise Austin, wanted to create a comfortable and stylish shoe that was specific to court sports. With more than 40 years of experience guiding and motivating women every day, Easy Spirit along with Denise Austin designed this Dilli court shoe knowing there are so many new people to the sport of pickleball how important it is to have the right shoes when playing.
"Not only are these shoes comfortable, cute and flexible, they provide support for all the lateral movements you make on a court, typical running/walking shoes are not going to cut it on the court for the type of moving you are doing in pickleball," says fitness expert, Denise Austin.
The Dilli sneaker, part of Denise's fall collaboration capsule launching this July, features high to low impact active footwear. This collection is designed to be another step in providing motivation through comfort and inspiring all women to live an active and healthy lifestyle.
"We will be supporting the collaboration through a full media buy including digital video, social advertising, direct mail, programmatic display, co-branded and influencer partnerships with the goal of attracting new customers who want to be comfortable while playing their growing court sports like pickleball and paddle," says Shanya Perera, SVP of Marketing & PR Marc Fisher Footwear.
ANNA ZUCKERMAN ANNOUNCES FIRST-EVER BRAND CAMPAIGN, "A TO Z"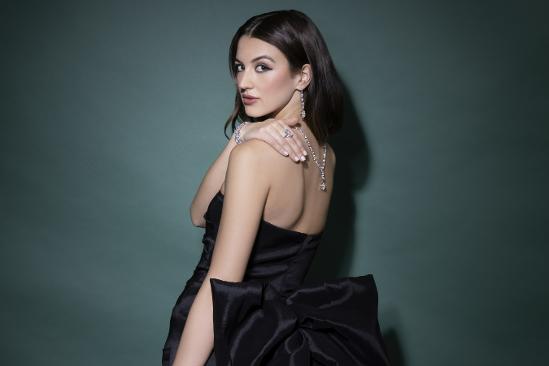 Boca Raton's Anna Zuckerman
Today, Anna Zuckerman, the purveyor of affordable luxury jewelry, announces its rebrand with its first-ever brand campaign, "A to Z," unveiling a new ethos of embracing a lifestyle of living and accessorizing boldly, every day, for every occasion. The campaign focuses on finding luxury in everyday life and allows women to wear statement jewelry whenever and wherever they desire.
"Women should feel celebrated every day and accessorize accordingly. We like to say that our jewelry is empowering, sparking instant joy and inspiring boldness in those who wear it," says Anna Zuckerman, Founder of Anna Zuckerman. "My motto has always been 'Why wait?' I encourage women to embrace their glamorous side, stand out, and never wait for a specific occasion to spoil themselves."
The new Anna Zuckerman brand will address a gap in the jewelry category by offering both statement and subtle pieces at affordable prices for all occasions including casual everyday wear, work, resort, special occasions and more. With market trends and industry demand shifting towards lab-grown diamonds and gem materials, Anna Zuckerman sees an opportunity to emphasize its commitment to accessible luxury jewelry and expand its target consumer demographic.
A favorite of Hollywood celebrities including Meghan Trainor, Kris Jenner, Bebe Rexha and Becky G, the rebranding will make high-end jewelry more accessible to a broader audience, offering high-quality pieces without the high-end price tag. The brand's "A to Z" campaign will highlight making glamorous jewelry more affordable, allowing consumers to incorporate it into their everyday lives.
Anna Zuckerman believes that jewelry should be an expression of personal style and individuality, unrestricted by traditional guidelines, empowering individuals to forge their own unique paths in the world of fashion and self-expression.
The brand will implement an innovative marketing strategy to support the "A to Z" brand campaign. This includes updating the website, refreshing all social media channels and launching a broader content campaign featuring a hero brand video. Over the next few months, the brand will also be debuting the new campaign at industry trade shows, entering into new retail categories and continuing programming to cultivate a community of celebrity brand fans.
About Anna Zuckerman
Founded in 2020 in Boca Raton, Florida, Anna Zuckerman's mission is to define sustainable demi-fine jewelry by offering the same precious look and feel of luxury at an accessible price point while helping to reduce ecological damage and destruction from material wastage. By repurposing salvaged lab-grown diamonds and gem materials that would otherwise go to waste, the Anna Zuckerman collection creates new beauty while extending the life cycle of existing materials through Diamond Crystalline™, a man-made gem that is so remarkably similar in appearance to a genuine diamond; it takes a trained eye to spot the difference. The process starts by hand selecting the highest-grade cubic zirconia and coating it with tiny particles of lab-grown diamonds, crystallizing the entire stone through a vaporization process of extreme heat and pressure conditions. The result ensures that the gems never get cloudy or foggy and always maintain a brilliant sparkle comparable to diamonds. Anna Zuckerman offers Diamond Crystalline gems in a variety of colors, shapes, and sizes, providing customers with a wide range of options to choose from, crafted only in precious sterling silver finished with platinum or 18k gold. The Anna Zuckerman Diamond Crystalline is not just a product but a symbol of progress and innovation. It represents a new way of thinking about luxury and sustainability, leading the way to a new era of luxury, free from the harmful effects of mining and destruction.
SOUTH FLORIDA
magazine | The Monthly Luxury Lifestyle Magazine Covering All Five Counties in Geographical South Florida
Luxury Chamber Media Group © 2017 - 2023 All Rights Reserved soflmag.com