South Florida Society - The News About the Events Which Matter Most!
LUXURY CHAMBER of COMMERCE held a
Sex and the City
theme party at the luxurious
ONE 11
Event Venue in Boca Raton. The function was attended by 64 patrons on a Monday night.
Some of the event highlights:
Major Jack Doyle celebrated his 80th birthday. He also won a door prize!
Opera legend Andrea Garofalo entertained crowds to standing ovations!
Acclaimed Chef and business owner Demetrius Taylor was master of ceremonies for the door prizes and announcements.
Adela Beqo made the trek from Miami representing Jaxson Maximus
The founder of Atlas Ocean Voyages Mr. Glen Alberto Alberti attended and connected with Luxury Chamber members. He now represents Riverside Luxury Cruises.
Salsa Club Owner Janet Neuschatz attended and danced salsa with our celebrity attendees!
Persian Herbalist and owner of Parsi Herbs Health Food Store on Federal Highway in Deerfield Beach attended with her daughter and had a great time. Dr. Anahitta Jafari Ph.D.
The next event is slated for February 20, 2023 and tickets are available at luxurychamber.com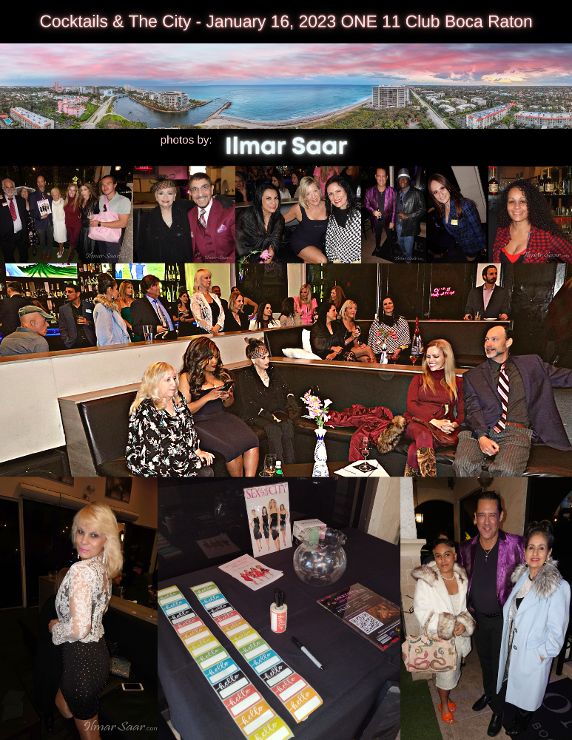 Hearts for Hospice and Catholic Hospice bring back The Best of the Best of Las Olas Luncheon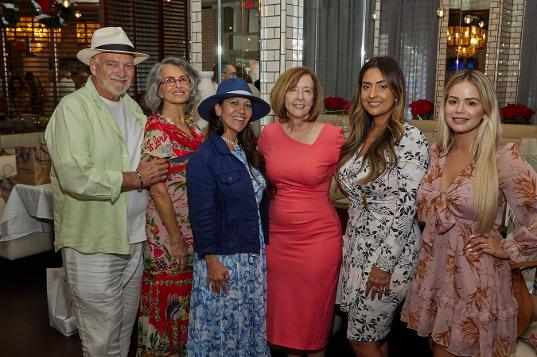 Photo credit:
Clay Wieland Photography
Hearts for Hospice hosted the Best of the Best of Las Olas at Lobster Bar Sea Grille to benefit Catholic Hospice. The event was generously sponsored by
South Florida
restaurateur
Jack Jackson
, Honorary Chair, VIP Sponsors Judson Capital,
Tommy Bahama
, Hearts for Hospice Ambassadors and The Best of the Best Models from the
Broward
community. The models were
Albert Miniaci
,
Rob Ceravolo
,
Jeff Cross
,
George Mollas
,
Ryan Gustafson
,
Michel Neutelings
,
Patrick Haywood
,
Mike Penrod
,
Jonathan Lord
, Steve Savor and
Steve Shapiro
, WSVN 7 News Retired Sports Director, all sported
Tommy Bahama
fashion with The Best of the Best, MC Comedian Drew Satee and the sounds of DJ Michel Marino filled the room with fun and excitement. Philanthropists
Albert and Beatriz Miniaci
announced their
$20,000
matching gift pledge to benefit the Catholic Palliative Care program in honor of
Rose Miniaci
,
Tammi Molinet
, and
Kim Pagano
.
All donations received will be matched by The Albert and Beatriz Miniaci Family Foundation. The "Make Everyday a Gift" campaign" allows Hearts for Hospice to help nonprofits raise funds for the greater good, said Co-Chair
Claudette Pagano
, who understands the mission of Catholic Hospice. "We are honored to receive support of the Miniaci's and others who have been cared for by Catholic Hospice",
Dian Backoff
, Executive Director. To make your matching gift, contact
Jessica Joseph
, Manager of Philanthropy and Public Relations at (305) 822-2380 or
givetohospice@catholichospice.org
.
SOUTH FLORIDA magazine | The Monthly Luxury Lifestyle Publication of OUR Region
A Luxury Chamber Media Group Publication
Ⓒ 2016 to Present