South Florida Caviar Fest
July 18th, 2022 - Pier 6 Rooftop by Hilton. Pompano Beach, FL 6PM
Monday, July 18th, 2022 Six O'Clock
Pier 6 Rooftop by Hilton - Pompano Beach, FL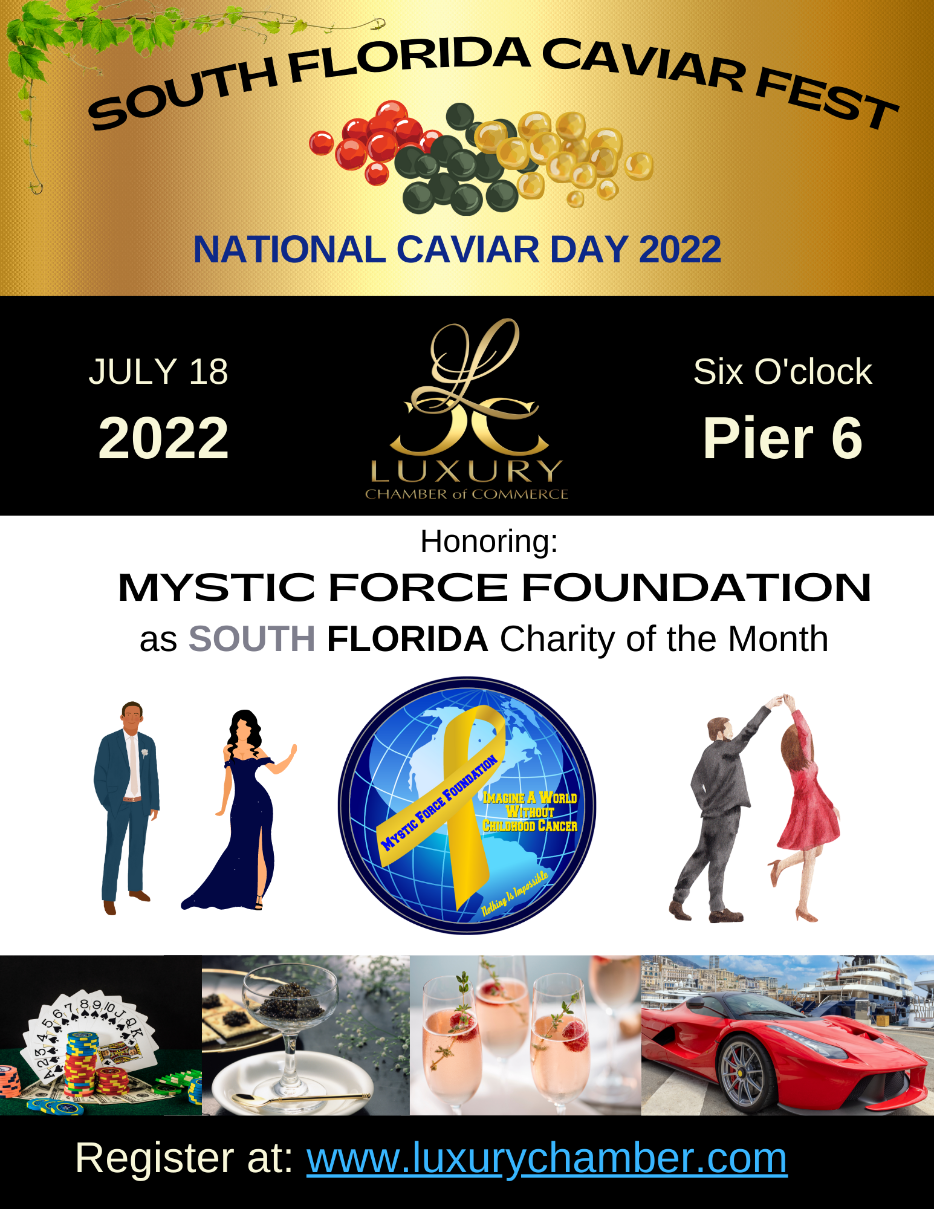 Monday, May 16th 2022 - Six O'Clock
Pier 6 Rooftop

by Hilton - Pompano Beach, FL
We are seeking table vendors and sponsors for luxury brand owners, CEO's and Luxury Brand Marketing Managers in the following categories:
YACHT SALES / CHARTER | EXOTIC & FINE AUTOMOBILES | OFFSHORE BANKER | TAILOR / LUXURY CLOTHIER | REAL ESTATE DEVELOPER | JEWELER |FINE ART | GOLF | LIQUOR BUSINESS / GOURMET FOOD
The Ultimate International Business Rooftop Party!
Join us on a private rooftop area overlooking the Atlantic Ocean near the Pompano Beach, Pier.
Business & Socialite Networking

International Affluent Attendees

Complimentary Adult Beverages

Complimentary Light Bites & Caviar

Table Vendor Includes Access to Stanchioned VIP area (additional beverages etc)

Table Vendor receives two tickets

Celebrity Appearances and Book Signings

Open Networking

Intimate Event Size - 100 to 250 attendees

Rain or Shine - large banquet room is reserved just in case of inclement weather!
Dress Code: White Linen Suits, Seersucker Suits, Montecristi Panama Hats Encouraged. Dress fashionable, dress to impress, dress for the season. No shorts please!!! If you want to dress more casually consider a Guayabera style shirt or elegant sundress
Sponsors: SOUTH FLORIDA magazine, LUXURY CHAMBER MEDIA GROUP, Hilton' Pier 6 Rooftop, Cruises Unlimited with Elaine Scola, Panama Hack's Podcast, Mederos Legal Trademark Attorney's, Mondo Italiano Magazine
Event Tickets: https://soflmag.com/society.php
Tags: Luxury, Luxury Branding, Florida Luxury Expo, Global Luxury Expo, Luxury Brands, Lux Chamber, Rooftop Party, Mimosa Day, May 2022, Pompano Beach
#floridaluxuryexpo #luxurybranding
Information for Table Exhibitors
Average Age of Attendees
: 40-60
Food and Beverage: Light appetizers included. One cocktail is included and additional select beverages available to table exhibitors in the roped off VIP area. A full cash bar is also available at your own cost.

Table Setup Time: 5:30


Event Start Time: 6:00PM


Sunset on May 16th: 8:00PM


Event End Time: 9:00PM - we have reserved the rooftop until 10PM so no hurry to wrap up!


Rain Plan: We have reserved a large banquet room inside the hotel in case of rain. (the Surf room)


Table Dimensions: 6' standard conference table with dark blue tablecloth and two chairs.
Lodging: Tru by Hilton Pompano Beach Pier


Things to remember:

Strong Double sided tape for props in case of ocean wind.

Extension cord. There are several plugins available. No additional cost.

Parking - No valet. You can use the adjacent parking garage or nearby street parking via "Pay by Phone" app

Portable lamp for the last hour of the event. The venue does provide small table lamps however they are not high powered enough to completely illuminate your literature.

Event address:
Pier 6 Rooftop by Hilton
200 North Ocean Blvd.


Pompano Beach, FL 33062

Just one small block west of the Pompano Beach Pier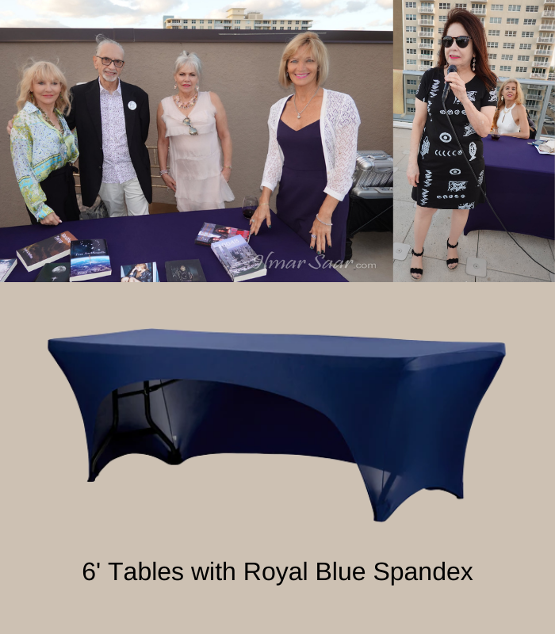 Sci-Fi & Crime Author Frank Ruffolo Signing Books, Elaine Scola with Cruises Unlimited on the microphone. Photos from our March, 2022 Event at Pier 6 Rooftop.