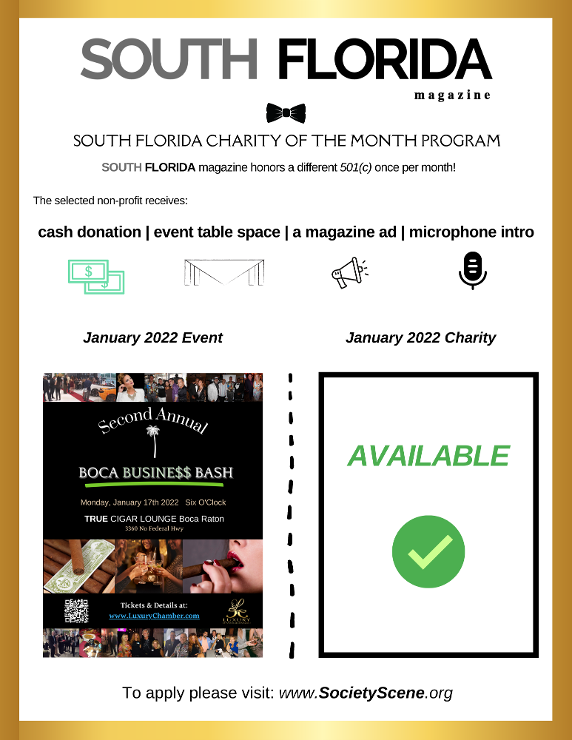 Welcome to
SOUTH FLORIDA
magazine's charity of the month program page. Every month we strive to honor a different non-profit organization for their good deeds in the community. If you would like to involve your non-profit organization there are two ways to go about it.
1.) Join LUXURY CHAMBER MEDIA GROUP's chamber of commerce entity: LUXURY CHAMBER of COMMERCE and we will help connect you with potential donors at our networking events, feature your events on some of our social media pages and calendars plus give strong consideration to the option of SOUTH FLORIDA CHARITY OF THE MONTH for a given month during the year. *assuming qualifications met
2.) Simply apply to be SOUTH FLORIDA Charity of the Month. Fill out the form on the left so that we can research your organization and compare it with other organizations which might also be submitting applications. We do not accept applications from cancel culture organizations or fake causes. If you are LEGITIMATE, HAVE A FIRM HANDSHAKE, LOOK PEOPLE IN THE EYE WHEN YOU SPEAK TO THEM, then by all means PLEASE APPLY!!!
Requirements:
Must be a legitimate 501(c)3
Must be willing to take an active role in an event
Must be willing to accept an award in front of a crowd and say hello on a microphone

https://www.facebook.com/southfloridacharity