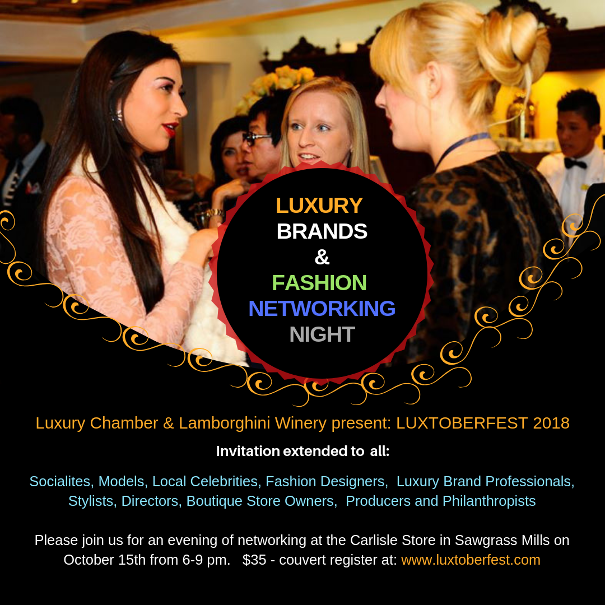 Featured South Florida Networking Event of the Month:
Luxtoberfest 2018
Monday October 15th 2018 at Saw Grass Mills Mall
Boca Raton, FL - On Monday, March, 20th 2017 Luxury Chamber of Commerce will host "Lifestyle Soiree". The function will be held from 6-9pm at Atlantis Salt Cave in Boca Raton. Atlantis Salt Cave is the first ever salt cavern facility in Boca Raton, Florida. Salt therapy is a holistic medicine practice and relaxation session which provides essential minerals via breathable air inside the cavern. Many benefits are touted such as help for those with asthma and cystic fibrosys. Healthy individuals enjoy the sports benefits and relaxation.
The evening will commence at 6pm and guests will enjoy a speech by foremost Luxury Marketing Guru Christopher Ramey titled "Pillars of Luxury" marketing to the affluent which will be coupled by a case study and book signing with legendary interior designer Perla Lichi who will be unveiling her new book: "From Cottages to Castles" Also included are complimentary wine, cheese and caviar followed by door prize announcements, the new member welcome ceremony for Atlantis Salt Cave and Green Dermatology & Cosmetic Center. This event is FREE for members of Luxury Chamber of Commerce. Future members can join or sponsor at: www.luxurychamber.com
Atlantis Salt Cave is located at: 9184 Glades Rd. Boca Raton, FL 33434
ffi: please contact Jay Shapiro at: jshapiro@luxurychamber.com or 561-376-0033
Monday June 15th 2015. Luxury Networking at Alpine Jaguar
Luxury Chamber of Commerce Event
-Open Bar
-Light Appetizers
-Best Networking in South Florida
Alpine Jaguar is located on Andrews Ave and I-95. Even is from 6-9pm. Business Attired Required. Only select clientele permitted to attend the event!
Wednesday May 27th 2015 - Marine Chamber Mixer at Chima Steakhouse
-Complimentary Drink
-Marine / Maritime Professionals Networking
-Light Appetizers
6-9pm at Chima Steakhouse on Las Olas Blvd.
________________________________________________________________________________________________________
Monday January 12th 2015 - Luxury Chamber & Marine Chamber Cocktail Mixer
Location: McNab's Dockside Grill - Pompano Beach, FL
Time: 6-8:30pm
Cost: $20. cash at the door
Dress Code: Business Casual
ffi: 561-702-0000
_________________________________________________________________________________________________________
Wednesday December 10th 2014 - Networking Luncheon, Larry Kawa Speaks at City Fish Market
11:30am till 1:00pm
7940 Glades Road Boca Raton, FL 33434
$45. at the door
Hosted by: Gold Coast Tiger Bay Club
__________________________________________________________________________________________________________
Thursday November 20th 2014 - Catelli Cigars Networking at Florida Cigar Company
Join us at Florida Cigar Company for cigars, business networking and rum pairing. 7-11pm - Florida Cigar Company - 1527 North Federal Hwy Fort Lauderdale, FL
NO COVER - CASUAL ATTIRE - BRING BUSINESS CARDS
Sponsors: Florida Cigar Company - Cigar Chamber of Commerce - Ron Zacapa
Networking Groups in South Florida:
Luxury Chamber of Commerce - www.luxurychamber.com
The Tower Club Networking Group
Cigar Chamber of Commerce - Business Networking Events for Cigar Smokers
BNI South Florida
Mediterranean Networking
Holistic Chamber of Commerce
South Florida Hispanic Chamber of Commerce
Artists Chamber of Commerce
Who's Who in South Florida
Gold Coast Tiger Bay Club
Professional Social Networking Group of Boca Raton
Toastmasters South Florida
The Executive Club
Hollywood Economic Leaders
Women's Leadership Council
Luxury Marketing Council
Aventura Chamber of Commerce
Miami Chamber of Commerce
Delray Newsmakers Club
Optimists Club of South Florida
Mediterranean & Persian Society
Snowbird Appreciation Society of South Florida
Fort Lauderdale Chamber
Wellington Equestrian Society
Millionaire's Club South Florida
Biz to Biz Networking
Business Referral Group
Israel Chamber of Commerce
JACOB - Jewish American Chamber of Business
South Florida Business Connections
Tri-County Networking
JYP & YJP
B'nai B'rith International Business Networking
Jewish Federation Business Division
AIPAC Networking Events
South Florida Public Relations Network
The Boca Tribune Networkers
Networking Ink
Financial Executives Networking
Kendall Networkers / Kendall Business Group
Sunny Isles Mixers
Russian American Chamber of Commerce - Hallandale Beach
Whether you're looking for serious business referrals or just business and social networking over cocktails, Events in South Florida surely has the most complete directory of business events and networking parties here in the South Fl