Boca Raton's Brazilian Festival - 7th Annual Brazilian Beat on September 8th 2018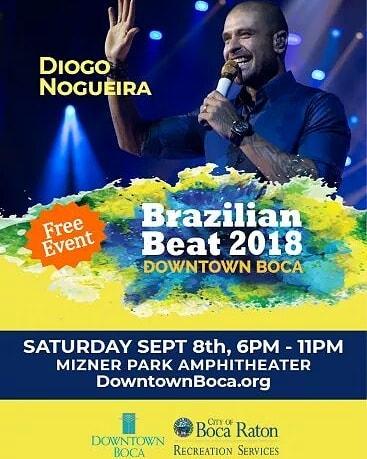 Celebrate Brazilian Independence Day with the 7th Annual Brazilian Beat
Saturday, September 8 from 6PM - 11PM
Mizner Park Amphitheater, 590 Plaza Real
Headlining Brazilian Beat will be Diogo Nogueira, one of the biggest names in Brazilian music today. Son of the legendary João Nogueira, he sings samba, the pulsating, wildly popular and joyous music synonymous with Brazilian culture. A multifaceted artist, Nogueira is a singer, composer, instrumentalist and also a TV and radio personality. He was nominated for the Latin Grammy for all of his seven albums, and won the category "Best Samba Album" on two occasions. His discography has earned six Gold CDs, and three Gold, two Platinum and one Double Platinum DVD. Completing a decade long career with over 10 million in sales, he has just released his first album of all original compositions, "Munduê"(Universal Music). The album has been widely embraced by the public, fellow artists and critics alike, confirming his place as a major star in Brazilian music today.
This FREE event brings together the art of music and dance in one mesmerizing evening. Get your groove on and be a part of this dazzling official celebration of Brazilian Independence. Live music, street dancing, including costumed dancers in a Rio-style parade by the SambaLa Samba School, a Capoeira circle, samba drummers a Zumba showcase and savory Brazilian cuisine and cocktails will make for a most memorable festival.
Thank you to our Brazilian Beat partners:
The Consulate General of Brazil in Miami, American Airlines, Hyatt Place Boca Raton/Downtown, Mizner Park Amphitheater, Boca Raton Museum of Art, SambaLa Samba School, The Rhythm Foundation, Acontece Magazine and Gazeta Brazilian News.
Downtown Boca and the City of Boca Raton Recreation Services. For more information call (561) 393-7807, or visit www.DowntownBoca.org or www.MyBoca.us.