Miami Dolphins Poised as AFC East Division Champs!!!
In the annals of football, the Miami Dolphins, birthed in the American Football League cauldron of 1966, have witnessed a prolonged postseason drought. Two decades have passed since their last taste of playoff victory in 2000, while the echoes of Super Bowl glory from 1984 (XIX) linger like distant memories. And now, the golden anniversary of their last Lombardi Trophy triumph looms large.
Let's talk divisional aspirations, a pursuit that's eluded the Dolphins since the distant year of 2008. The AFC East tableau, painted with the struggles of the 6-6 Buffalo Bills, a shadow of their former selves, and the 4-7 New York Jets and 2-9 New England Patriots, both mired in four-game slides, sets the stage. A tableau where, in unison, these three teams have mustered a mere dozen victories.
Yet, amidst this gridiron tapestry, Mike McDaniel's Dolphins emerge as the 8-3 protagonist, navigating adversity with a resilience that's become their hallmark. Their journey leads them to the nation's capital this Sunday, facing a Washington squad that hemorrhages points at an alarming rate (29.2 per game). The fallout? Defensive maestro Jack Del Rio is handed his walking papers post a 45-10 Thanksgiving Day debacle against Dallas.
Now, the plot thickens. Four of the next five showdowns unfold on the hallowed turf of Hard Rock Stadium, a fortress where the Dolphins stand undefeated at 5-0. Titans, Jets, and Cowboys are on the menu, with a detour to Baltimore in Week 17 and a rematch with the Bills under the South Florida sun. A tantalizing prospect, but a twist awaits as the Dolphins, despite triumphs over the Raiders and Jets, grapple with a turnover conundrum, notching up a worrisome 19 miscues, with quarterback Tua Tagovailoa accounting for five in the last fortnight.
In the grand theatre of football, where narratives are written and destinies shaped, the Dolphins find themselves at a crossroads. A successful jaunt could herald not just an AFC East crown but a coveted top seed in the AFC playoffs. However, in the realm of Peter King's football prose, cautionary tales emerge—ball security must be paramount, and no adversary can be overlooked on the quest for gridiron glory.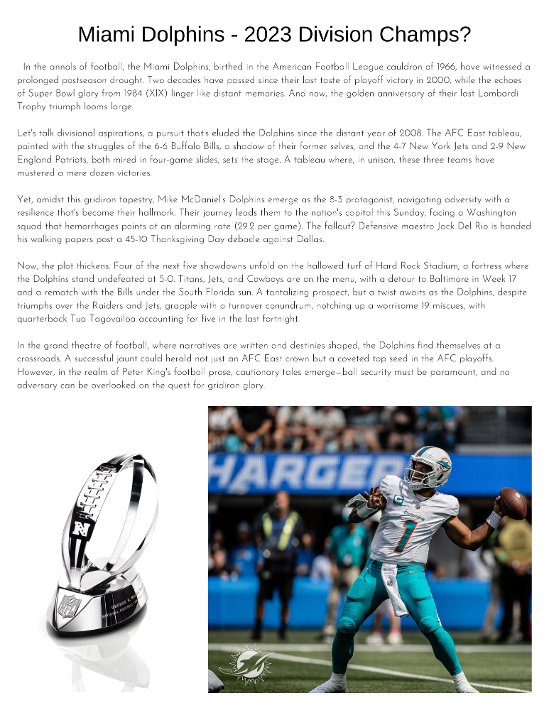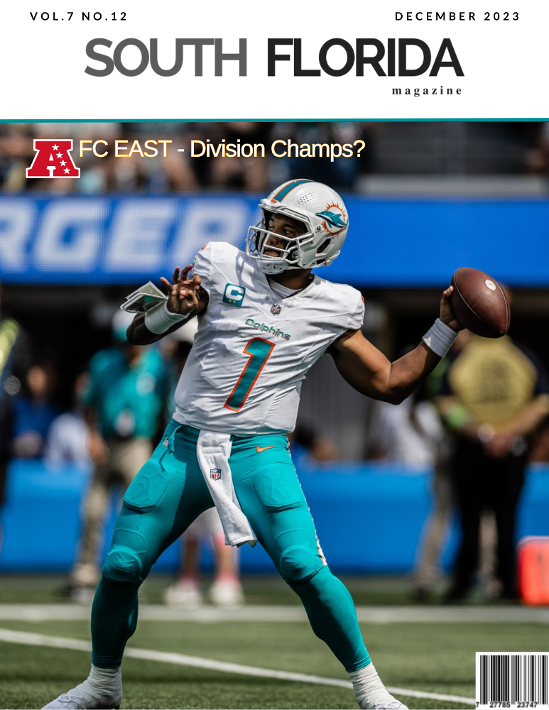 SOUTH FLORIDA
magazine | The Monthly Luxury Lifestyle Magazine Covering All Five Counties in Geographical South Florida
Luxury Chamber Media Group © 2017 - 2024 All Rights Reserved soflmag.com